I had the privilege of interviewing Melina Duterte of Jay Som for WSOE, Elon's campus radio station. Jay Som's sophomore album,

Everybody Works

, was Paste Magazine's number one album of 2017 and one of NPR's top albums. To read the interview, click here or scroll down!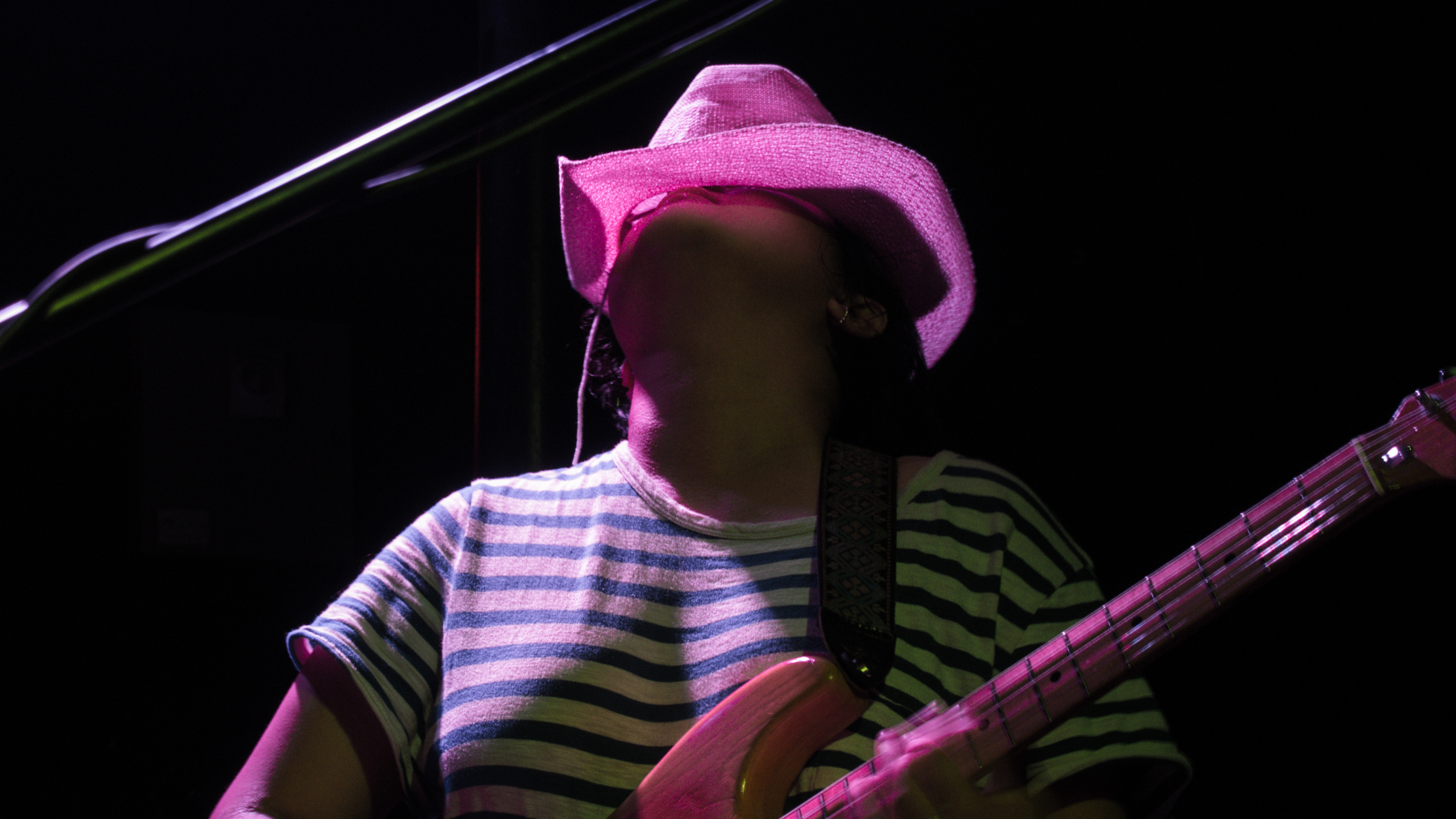 Melina Duterte has made a name for herself in the indie scene with her last two albums. Her songs capture the anxiety and small moments of youth with jangly guitar riffs and laid back drums. Lately, it's been nothing but success for Duterte as she moves from NPR's Tiny Desk to KEXP's live room and beyond. 
We sat down with Duterte ahead of her show at Local 506 and chatted about her love of Death Cab for Cutie, her experience filming a music video on a ski lift, and, of course, her love of cowboy hats.
WSOE: How are you doing, Melina?
Jay Som: I'm doing very good! I'm very tired and I just had 2 Red Bulls. [laughs] It's that point of the tour where the me being tired is at full peak.
WSOE: Just constant tiredness?
Jay Som: Yeah, yeah. It's mostly because it's been, like, a headlining tour. When you're headlining, you play last so you end up loading out very late and sleeping late and getting four hours of sleep. So, it's been like 20 days of that.
WSOE: It's your first time headlining a tour right?
Jay Som: Yeah, kind of, yeah. Earlier in March, we co-headlined with The Courtneys but that was more chill because we were switching off every other night to headline.
WSOE: How's it been to be the main attraction?
Jay Som: It's been really cool! It's really nice. It's been generally positive too because this is fall touring is off-cycle from the record but people are still coming out and they're really interested. I think that's just a really nice feeling that people are still willing to come to shows.
WSOE: I've got to ask, I found you through the NPR Tiny Desk Concert. How do you think that's impacted your career?
Jay Som: Oh, greatly. I mean, especially with this tour people are "I found you through Tiny Desk" or on KEXP and, luckily, we've had so many opportunities to do the main staples for videos and radio things. We've done it all this year. It's been kind of surreal.
WSOE: But surreal in the best way.
Jay Som: Oh, the best way! Of course, it just feels like a dream and it's been happening so fast. It's only been a year-and-a-half now or something?
WSOE: How is it being so young and having this crazy tour?
Jay Som: It's kind of weird. It feels like I'm getting older at a faster rate. It also feels good because it makes me feel like the hard work paid off. I'm still getting used to the whole touring thing because it's been non-stop.
WSOE: You know though, everybody works.
Jay Som: You just had to say it!
WSOE: Do you want to speak a little about what that album title means?
Jay Som: So, that record, the recent one, I kind of wanted to make a relatable record that would connect with people that are around the same age with me and struggling with young adulthood. Feeling confused but also sort of reveling in the fact that it's okay to feel confused and to not have your shit together if that makes sense. It's alright, it's okay to be patient too because it's hard.
WSOE: You've got a tattoo of Death Cab for Cutie's We Have The Facts And Are Voting Yes on your arm right?
Jay Som: Yes I do, yes I do. Boam! [She shows the tattoo and laughs].
WSOE: So, I'm going to guess that they're a big influence then, but who else?
Jay Som: Oh yeah, totally. At a young age, it was Death Cab for Cutie but also The Microphones. You know Phil Elverum, who's also Mount Eerie. Mount Eerie, his record that came out in 2002 or something called The Glow Part 2 was one of the first records that hit me in the face where I was, like, "Oh man, you can make music like this?" At that time, I was listening to top-40, mainstream stuff. You know, things that were, like, just there, accessible. Yeah, The Microphones, Death Cab for Cutie, and Yo La Tengo. Lots of Yeah Yeah Yeahs because I love Karen O. To this day, all those bands because they're still killing it.
WSOE: You almost went to school for jazz. How does that jazz influence come into your sound, if anything?
Jay Som: Yeah! It is a huge part of my music, it's still there. I played trumpet very seriously for about nine years –– most of my childhood and education throughout elementary school, middle school, and high school. I was just very saturated with band and concerns music and orchestral stuff, but mostly jazz because that was my thing. It was at the point of my senior year where I was deciding if I wanted to just continue doing it, because I was pretty good at it and I knew that I would, sort of succeed. But, you know, I sort of had this moment where it clicked. I was, like, I want to keep continuing, like, songwriting and recording music because that's, like, what I want to do right now. I had to really hunker down. Honestly, I feel like I really got lucky because I throught that this sort of stuff that's happening now would happen in 5 years.
WSOE: Well, it also comes down to your skill as a songwriter and hitting that right chord so, don't put yourself down!
Jay Som: Yeah! [laughs] I'm happy about it! I'm very happy about it.
WSOE: Talking about skill, I've heard that you play every single instrument and record it yourself in your bedroom. How does that impact your creativity?
Jay Som: It feels good to wear these multiple hats and to be the sole creator. It feels much better than collaborating, in my opinion, because I've had my fair share of collaborating and it's usually very… It takes too much time and you tend to butt heads but when you're by yourself and you sort-of trust yourself and you're assertive with the way that you work and you're in touch with your skills, it's a much richer experience. It's always been that way; I started recording at 12 and I started writing at the same time. It really has always been that way for as long as I can remember.
WSOE: Speaking of any hats, I've heard that you wear a lot of cowboy hats.
Jay Som: Physically, I also wear many cowboy hats. You're going to see, I'm not wearing it right now, but I've got a special one.
WSOE: You had your triple header with Mitski and Japanese Breakfast; the first all Asian-American headlining tour ever?
Jay Som: Ever. Historical, I'd say!
WSOE: So, how do you go about bringing diversity at your shows? Or do you make efforts?
Jay Som: I think that it's a thing that happened naturally. It's very rare to see someone that looks like me on stage. Especially in the past year now, I feel like the music scene, I guess generally the indie-rock scene too, has been dominated by women and femme people too. I think that's the right step, or, sorry, the best step in the right direction. I think that younger people now are searching for that and they see that's accessible. You know, you see all these shows that are happening nowadays and it's not just these white men in rock bands anymore. But, yeah I think that it just happens naturally. But, I do encourage a lot of people of color and women to come to shows.
WSOE: How was the recording process different for Everybody Works, as you're learning different things and seeing what works as you tours?
Jay Som: I think that Turn Into and Everybody Works, in the time in between those records, I did have a little more ambition to get better at my producing and mixing. I wanted to make a big sounding record and it was more intentional, in terms of the songwriting, lyrics, and instrumentation process. It's been a couple of months now and I hate the album! [laughs]
Jay Som: Yeah! It's just, it's a classic, classic tale with recording albums where you're going to listen to it in the future and you're not going to like what you hear. It gives more motivation to make the next record better.
WSOE: Like natural creative criticism.
Jay Som: You know, there's no point in being settled with whatever. You have to find the motivation to get better at something [laughs]
WSOE: Is there any one song on the album that you're really into or proud of?
Jay Som: Oooh yeah! I personally like (BedHead) because that song was one that went through so many changes. It actually was, like, four separate songs at one point. At first, it was this weird, punk, sort of shoegaze song, then it turned into a bare, drums and guitar only song, and then it started turning into this droning, sort of acoustic song.
WSOE: You recorded the video for Baybee in a cable car, right? How was that?
Jay Som: In New Hampshire. That was so much fun! That was the first time where I did a music video where I was singing into the camera. Charlotte Hornsby and Jesse Ruuttila, they directed and shot the video, and It was just them and a runner who was helping them. So, it was just three people working so hard. But, not only that, they were shooting with film. What is it? Something millimeters?
Jay Som: Yeah, something like that. They were literally working against the clock for sunlight. We had this cable car that was going up and down every ten minutes and there were actual skiers and snowboarders watching us do this. Like, me in the fur coat looking weird as hell and these two dancers just dancing to a camera. It was very fun though!
WSOE: What music have you been listening to lately?
Jay Som: Have you ever heard of Lomelda? Okay, so Lomelda just came out with an album called Thanks. Her name, I think it's Hannah, Hannah Reed, she has played in Howdy and I think that she's playing bass in Pinegrove, but she has her solo project and it's really good. It's sort of this intimate, open-road album. It's soooo good. There are some parts where it just sounds like Radiohead. Also, Homeshake. Have you ever heard of Homeshake?
WSOE: Are there any weird things on your rider?
Jay Som: Any weird things on my rider? Not really, not as weird as before. But, we have been compiling a new list of what we want on the rider. So, we have the basic stuff like chips and salsa, and Red Bull, and Yerba Matte, and stuff like that. Now, we're going to ask for weird stuff like underwear and socks because they will give it to you! But also a puppy to pet, if possible, and people actually bring their dogs!
WSOE: Yeah, I was seeing Ed Sheeran a few weeks ago and they brought him kittens to be with.
Jay Som: Like actual kittens?
WSOE: Final question, what's next?
Jay Som: What's next? Oooh, what's next is a big, big, big, amazing break which will be two or three months. So, after this tour, we've got, like, two weeks for a break in October. Then we go on the road again to tour with Alvvays. That's going to be a really big one, it's going to be so much fun; they're one of my favorite bands! After that, I'm going to focus on moving down to LA at the end of this year and starting a new life there and then going on tour again!
WSOE: Well, thank you so much! Cheers!
Jay Som: Thank you, Joe! Yeah!!